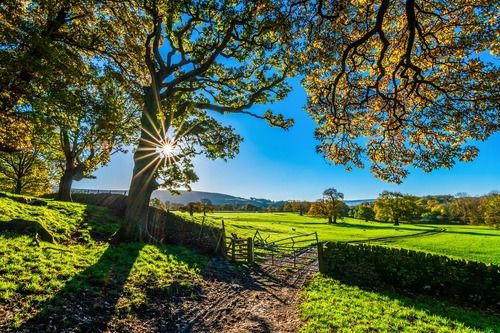 'Enter through the narrow gate; for the gate is wide and the road is easy that leads to destruction, and there are many who take it. For the gate is narrow and the road is hard that leads to life, and there are few who find it.' Matthew 7:13-14.

Whenever we take the nearest footpath from the cottage where we live in Wales, Catherine and I pass through five gates in quick succession before arriving at the Mawddach estuary. Each one is a reminder that the fields are fenced because sheep need to be protected from straying and also that there is only one secure path through the marshy ground.

The image of a gate is often used by poets and artists to suggest the right way, or a new season or a new opportunity. But we followers of Jesus have an amazing privilege. We do not go through a gate into a new season and then try to follow the right path on our own. In John 10:9 Jesus says "I am the gate. Whoever enters by me will be saved." In John 14: He says "I am the way" or "the path."

In other words, when we know Jesus and develop our friendship with Him we find He is with us on the way.

King George famously quoted the beginning of a poem in his 1939 Christmas broadcast, in the early days of the Second World War:

'I said to the man who stood at the Gate of the Year,
"Give me a light that I may tread safely into the unknown."
And he replied, "Go out into the darkness, and put your hand into the hand of God.
That shall be to you better than light, and safer than a known way."
May that Almighty hand guide and uphold us all.'

The poet, Minnie Haskins, was almost unheard of, but she obviously knew Jesus as the gate. She served with a Wesleyan mission agency in East London and then in India before the First World War. She later studied sociology in the 1920s to help her in the activism and community work that she was engaged in as a result of her faith. She was so successful in her studies at London School of Economics that she became a tutor and used her influence to campaign for the welfare of workers in dangerous factory conditions. She was able to bring about many positive changes, building on the work the Methodists and Salvation Army had done among the urban poor.

For Minnie Haskins, following Jesus meant taking a difficult path in life. She worked among destitute people and was often short of funding herself before the tutoring gave a steady income.

The gate might be narrow and the path might involve a lot of difficulties, especially if none or few of our family and friends are also following Jesus. Who knows? There may be persecution too. But Jesus Himself is with us by the Spirit, as our friend and comforter. And He is the path.

- Chris Horton

Inward prayer: Lord, we want to follow you: please give us the courage to follow wherever you lead and to be willing to love and do what you called us to do.

Outward prayer: Whom can we pray for who needs to know Jesus? Whom do we know who is struggling and needs our loving, practical help? Pray for them and serve them.
3 Comments
Tomi
- January 13th, 2022 at 12:51pm
Jesus is THE way, not A way to the Father God. Selah
Jesse
- January 14th, 2022 at 2:50am
Loved learning about this pioneer, new to me. Thanking God, God of open doors and opportunity
Ruthlyn
- January 15th, 2022 at 9:54am
Great to read about this. How the narrow gate is never easy at times.
Blessings Chris